Portable Cordless Shiatsu Neck Back Massager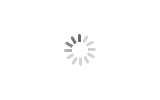 Portable Cordless Shiatsu Neck Back Massager
Becozy

China

30-45 days

2500 pcs/ day
About this item neck shoulder massager:
【Cordless & Rechargeable】Equipped with a rechargeable lithium-ion battery, the shoulder massager offers a 2-hour cordless massage when fully charged, making it convenient to be taken anywhere. Just long press the "ON/OFF" button for 3 seconds to initiate battery-powered mode
【Hand-free design】For more convenient use, Hook and loop fastener hold the massager in place, which provides you with a hand-free massage
【Long shoulder straps】Long shoulder straps make it more flexible to massage your shoulders and back
【3D deep shiatsu massage nodes with heat】8 deep-kneading Shiatsu massage nodes relieve stiffness in neck and shoulders. Advanced heating function transfers warmth to muscles
【Adjustable intensity , Bi-directional massage】Massage speed can be adjusted according to your specific needs. Massage direction automatically changes to provide you with a unique massage experience
About the Product

1. Modern people need to work for a long time sitting in front of computer, which can easily lead to pain in the shoulders, neck, and lower back.
2. After long-distance driving , it is easy to feel pain and tiredness. At this time, you can close your eyes and enjoy a 15-minute deep kneading massage. Just like the ice drink in summer and the sunshine in winter.
3. This full body massager with long shoulder strap helps our grandparents massage their bodies and relieve stress and fatigue.
The role of components
1. 8 heated massage heads provide deep kneading massage with 3 speeds (high, medium and low) and massage intensity.
2. Those who think that the massage is too painful can start from the low gear first, or wear morowel.e, or pad
3. With good air permeability, the mesh is odorless and it also prevent the skin from the massage head , but it is not recommended to use the product directly on the skin, because the massage head has a heating function, and some people are sensitive to heat.


Upper body massage
The neck shiatsu massager features ergonomic U design. It will help you relieve your neck, shoulder, back, buttocks, thighs, or any other areas you want to. It's very helpful in relieving muscle pains, joints ache, and muscular tone.
However, it is not recommended to put it on your back and lie down because the weight of your body will lessen the massage effect.
The long shoulder with paste can be fixed. Free your hands so that you can have a cup of coffee, read books and so on while massaging.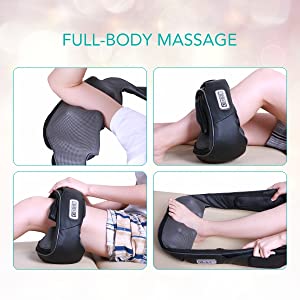 Lower body massage
Athletes, people who often do sports like hike, they are more likely to have firmer leg muscles and suffer sore.
After the end of the day's itinerary, go home to soak feet with hot water, and then enjoy massaging.
It can be very effective to ease the legs and feet fatigue, relax muscles.